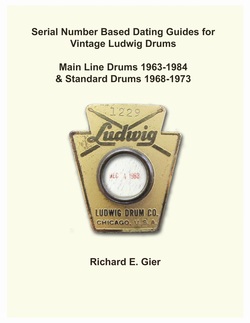 Serial Number Based Dating Guides for Vintage Ludwig Drums
Main Line Drums 1963-1984 & Standard Drums 1968-1973

A fresh look at vintage Ludwig drums, with an emphasis on understanding how to evaluate authenticity and estimate manufacturing dates.
It is broken down into five parts: Part I - Current Guides, Part II - New Dating Guides for 1963-1984, Part III - Tracking Changes in Physical Characteristics, Part IV - Dating Guide for Ludwig Standards 1968-1973, and Part V - Date Codes from 1971/72 Era.

Released in December 2013. Now available from the publisher at Rebeats.com, on eBay from Seller georgeway (Rebeats), or by emailing the author at Rick@GretschDrumDatingGuide.com.
---

Vintage Ludwig Serial Number Dating Guides
Ludwig drums have a distinct advantage over Gretsch when it comes to establishing a relationship between serial number and date. Many Ludwig drums, including main line (Keystone and Blue/Olive Badges) and Standards, have dates stamped inside their shells or on paper labels. In the 1999-2005 time frame, several guides were published which report known serial number and date stamp combinations and/or show the general relationship between serial number and date.* These addressed the Keystone badge drums of the 1960s and ventured only slightly into the Blue/Olive badges which replaced them in 1969. Most knowledgeable of Ludwig drums agree that someone armed with only a serial number cannot reliably pinpoint a date of manufacture of a Ludwig drum. Nonetheless, many people see the existing dating guides as if chiseled in stone. It appears that many people do not understand, or perhaps do not wish to understand, the limitations of these tools. Instead, they state with false authority, precision and accuracy that a particular drum was produced at a particular time "because the date guides say so." This phenomenon is seen frequently in online listings and in the opinions of some "vintage drum experts," who are often misapplying the same limited tools that are publicly available. It could just be inexact language which present estimates and approximations as if they are highly precise or an attempt to pump up the seller and make it appear that they are more of an expert than they really are in order to obtain a higher price for their drums. The inherent limitations of the existing dating guides and their frequent misuse by some in the vintage drum community inspires a fresh look into how to best date and authenticate Ludwig drums.

In January 2012, three projects were started - the first to improve upon the guides available for main line Ludwig drums from 1963-1972 and to produce a new guide for years 1972-1984; the second to create a guide for Ludwig Standards from the 1968-1973 era; and the third to decipher the meaning of the Date Codes which appeared in both main line and Standard drums in the 1971-72 time frame. The goal is to provide better tools to the vintage drum enthusiast interested in evaluating the age and authenticity of their drums. Opinion, speculation and opportunistic misinterpretation of the existing resources should be replaced with solid factual information collected from large numbers of vintage drums. The same approach used to confront the legend, lore and lies of vintage Gretsch drums is applied to vintage Ludwig drums.
Ludwig Main Line Drums (Keystone & Blue/Olive Badges)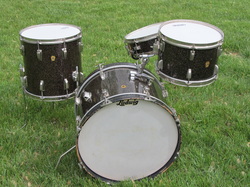 As of December 10, 2013, a database of 1,442 reliable reports of serial numbers and date stamps from the main line of Ludwig drums has been compiled. Fifty-eight have date stamps but badges without serial numbers and 120 additional drums have serial numbers and Date Codes. In total, information from more than 5,700 drums has been gathered to assist with analysis of trends and patterns that are serial number based and not date based. The database includes drums from the beginning of Ludwig's use of serial numbers on Keystone badges in late 1963 and continues through the Blue/Olive Badges to the large Keystone badges which began in around 1984. Information is collected from publically available internet resources, through monitoring of online auction listings, reports from vintage drum owners and physical inspection of vintage drums. Of particular note, vintage drum enthusiasts Mike Layton, Steve Black and Mike Machat contributed lists of serial numbers/date stamps that they had compiled to this project.

Part I of the paper reviews the previously published information designed to aid in date estimation. The construction of each is analyzed and strengths and limitations are identified. Part II presents two newly developed Dating Guides for main line drums: the first covers 1963-1972 when date stamps were actively used and the second covers 1972-1984 after date stamps are discontinued. Part III suggests approximate dates and serial number ranges for several changes in physical characteristics, including milestones like:
1. the change in the color felt on the baseball bat style tone controls from red to white;
2. the changes in the interior finish from white RESA-COTE paint to a clear lacquer and then to LUD-COTE or Granitone paint;
3. changes in the tone control style from Small Round Knob to Baseball Bat, then a short revival of the Small Round Knob, and finally to multiple versions of the Large Round Knob; and
4. changes in the badge styles from small Keystone to Blue/Olive parallelogram with pointy corners to the Blue/Olive parallelogram with rounded corners to the Large Keystone. A total of eight different badge styles (two small Keystone, four Blue/Olive parallelogram and two large Keystone) are documented.

Part III culminates in a detailed summary table that lists the serial number and date ranges when changes in physical characteristics occur. This table should provide a starting point for the authentication of vintage Ludwig drums made from 1963-1984. Always mindful that exceptions occur, this table should be just one of the tools that one uses.
---
Ludwig Standard Drums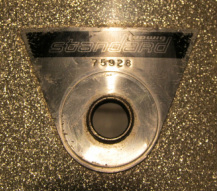 Part IV of the paper provides a dating guide and analysis of changing physical characteristics for Ludwig's second line Standard drums, 1968-1973. Many players seeking the vintage Ludwig sound find Standards to be affordable alternatives to the more expensive main line of Ludwig drums. Although Standards were marketed as second line drums, the wood shells were the same as used on the main line of drums. Different wraps, hardware and interior finishes were utilized to distinguish them from the "regular" Ludwigs. However, other than a warning on
http://www.vintagedrumguide.com/serial_numbers.html
that the Standards did not use the same serial numbers as the drums which received Keystone and Blue/Olive badges, little has been available regarding the serial number scheme employed on Ludwig Standards. This is likely in part because of relatively low interest due to their "budget" nature and relatively short period on production. Until now, dating of Ludwig Standards represented another gap in the information available to the vintage drum enthusiast.
As of December 10, 2013, 472 drums are recorded, with 75 reliable reports of drums with both serial numbers and date stamps, There are 20 drums with serial numbers and labels with date codes. Special thanks to collector
Kevin Oppendike
for sharing his knowledge of Ludwig Standards.
---

Date Codes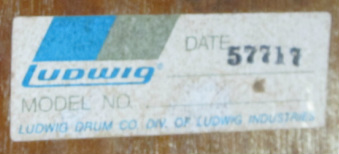 Part V of the paper explores the mystery of Date Codes which appear on some paper labels inside both main line Blue/Olive badge drums and Standard Ludwig drums in the early 1970s. Some have postulated that there is logic embedded in the numbers. It would certainly appear that since all have a "71" or "72" in them, that this might be an expression of the year of manufacture. However, it is also possible that this number does not contain any representation of the date of manufacture at all.
The following date codes have been recorded (listed in numerical order):
4272, 11472, 11717, 12717, 13727, 14717, 14720, 14727, 21720, 21727, 31720, 32372, 56717, 57717, 58717, 59717, 60717, 61717, 81720
The drums with these date codes had B/O badges with serial numbers ranging from 825000 to about 979000 and Standard serial numbers in a range from about 49000 to 67000. Based upon the serial number/date stamp research, the link between date and serial number is generally linear. However, if the date codes can be interpreted properly, insight may be gained into their relationship to serial numbers and further improvements to the dating guides can be made.
The following Date Codes and Serial Numbers have been recorded (including 26 shared by collector Mike Machat):
Main Line (244): (revised as of 5/8/2019)
Date Code Serial Numbers
4272 825829, 826353, 826477, 828431, 828835, 829615, 829629, 829671, 882718, 923181, 924685,
925175, 929155, 929192, 929218, 929288, 929402, 929902, 930862, 930980, 931303, 931701,
931729, 931730, 931373, 934730
11717 902474, 903956, 907333, 907397, 907466, 922557, 922590, 923638, 978496, Unknown (1x)
12717 868906, 869603, 869605, 869699, 936976
13727 938639
14717 932200
14720 933853
14727 909804, 909805, 912880, 912977, 913602, 914257, 927202, 927474, 933326, 933895, 935769,
936412, 936655, 937397, 937554, 937695, 937723, 937737, 937797, 938355
20717 826909, 826939, 836116, 836354, 836943
21720 878991, 880523, 880719, 908xxx, 908579, 908597, 909xxx, 909206, 909212, 909241, 909277,
910451, 911200, 911456, 911572, 912xxx, 912166, 913084, 913278, 914598, 916457, 916569,
916812, 918560
21727 913278
31720 852935, 870xxx, 875520, 876793, 877172, 877187, 877967, 878414, 879301, 879416, 879840,
879917, 879984, 879986, 880844, 881006, 881196, 926559, Unknown (1x)
32372 925925, 927080, 930726
56717 891009, 891594, 891815, 891816, 891873, 891896, 892637, 895533, 895586, Blank (17x),
Unknown (1x)
57717 840910, 840922, 840932, 841352, 841807, 843123, 843147, 843259, 843690, 845145,
846643, 893327, 893377, 893802, 893852, 894571, 895290, 895843, 896455, 896518, 897227,
896455, 896518, 897227, Unknown (1x)
58717 840970, 841633, 843158, 843837, 844144, 844201, 844317, 844318, 844328, 844349, 844812,
845355, 845823, 870350, 874512, 874574, 89XXXX, Blank (5x), Unknown (3x)
59717 843994, 869914, 872455, 89XXXX, 897925, 8980XX, 898478, 898691, 900327, 900488, 905471,
906326, 906761, Blank (3x), Unknown (1x)
60717 899121, 899178, 899489, 899556, 899587, 9XXXXX, 900260, 900277, 906328, 906395, 917XXX,
9178XX, 918172, 918638, 919727, 920297, 920415, 920441, 920500, 920909, Blank (1x),
Unknown (1x)
61717 917834, 917839, 917914, 917998
81720 879840
5671X Blank - Last digit of
Date
Code
not readable
5871X Unknown Serial number
5971X 900309 - Last digit of
Date
Code
difficult for seller to read
xx717 917894, Blank (1x), Unknown (1x) - First two digits of
Date
Code
not readable
x1720 880XXX - First digit of
Date Code
not readable
Standards (47):​ (revised as of 5/8/2019)
Date Code Serial Numbers
4272 53461
11472 54933, 54977, 54998, 56067
11717 58669, 58819, 59330, 59360, 59428
12717 55109, 554xx, 58673
14727 59170, 66405, 66167, 66405, 66449, 66495
21720 54663, 55367, 63908, 63942, Unknown (1x)
56717 51361, 51708, 52119, 52348, 52370, 52435, 52502, 52959, 52969, 53638, 53684, 57546, 5xx41,
Blank (1x)
57717 50977, 51403, 51479, 54170
58717 49315, 56216
59717 49590, 50242
XX717 66481 - First two digits of
Date
Code
not readable
If you can contribute information about Ludwig drums with serial numbers from this time period (1963 through 1984), or insight into the Date Code used on the paper labels, please send information to
Rick@GretschDrumDatingGuide.com
or go to
Report Your Drums
and provide your information using the Information Sheet for Ludwig drums.
---
* These guides include:
1. Rob Cook (
The Ludwig Book
, Rebeats Publications, Alma, MI (2003), page 210, and available at the Ludwig Drum Company website -
www.ludwig-drums.com/features/hoamld/serialnumbers.php
).
2. Ned Ingberman ("How To Date 1960's Ludwig Drums By Serial Numbers," Sep/Oct 2002 DRUM! Magazine and available at Vintage Drum Center's website:
http://www.vintagedrum.com/ludwig_serials.htm
).
3. John Aldridge ("Chaotic Creativity: Ludwig Drum Sets In The '60s," July 2005 DRUM Magazine and available at
http://www.drummagazine.com/gear/post/ludwig-drum-sets-in-the-60s/P1/)
.
4. Paolo Sburlati (
Ludwig: Yesterday and Today
, Paolo Sburlati Enterprises, Turin, Italy,1999).
5. LudwigDrummer.com's chart (duplicated at
http://www.vintagedrumguide.com/ludwig_serials.htm
before ludwigdrummer.com's demise. The original ludwigdrummer.com effort, which I believe dates to March 8, 2002, may be accessed via www.archive.org's Wayback Machine).
6. Mike Machat, "Serial Number and Date List for Vintage Ludwig Drums (1963-1972)," self-published, 2002.