​​
These guides are written for those trying to approximate the manufacture date of their vintage Gretsch and Ludwig drums, but are confused and frustrated by the information that is available on the interwebs, much of which is conflicting or incorrect.
Serial number-based dating and authentication guides are available for Gretsch, Ludwig and Ludwig Standard drums. Because the approach is serial number based, it only applies to Gretsch drums with serial numbers starting in about 1962, Ludwig main line drums with serial numbers starting in late 1963. Ludwig Standards made starting in about 1968 through about 1973 are also addressed (Ludwig reused the "Standard" brand a few times). Because the focus is on vintage drums, the guides do not generally address drums made after the mid-1980s.
The guides present information based upon data gathered from thousands of vintage drums. They are based upon volumes of information taken from actual drums and refrain from repeating the legend and lore of vintage drums, which is often inaccurate and not based upon reality. The guides teach the reader about changes in the physical characteristics of these drums which will help them to determine if a drum is authentic or just a collection of mismatched parts.
​Click on the links below or the tabs above to learn more:
Gretsch Drum Guide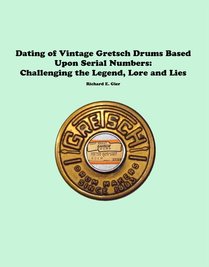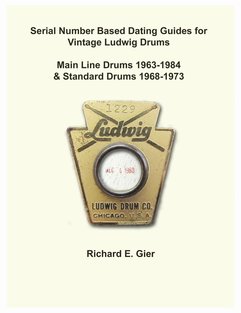 ​​
​If you have drums to report to make future editions of these guides even better, please send your information in the forms accessed by clicking the link below.
Report Your Drums
​If you have purchased one or both of the guides and want to keep up with revisions and news, click the link below.
Updates & Revisions to the Guides
Did you know that there are at least seven different styles of Gretsch Round Badges used from the 1930s through the 1960s? Learn more by clicking the link below.
​
Gretsch Round Badge Variations Paper
​
​Requests for Date Estimates:
Sorry that I have to say this, but too many people have not been able to figure it out on their own. Please do not just email me a serial number and demand that I tell you how old it is. First of all, that is rude. Second, as fully discussed in the dating guide, there is much more to it than that. Third, it takes time to answer each request. The dating guide was written to provide tools to assist the drum owner to figure it out for themselves. If you just want an answer in order to sell the drum on eBay or Craigslist, I suggest that you just provide pictures of the drums, paper labels, badges and other information in your listing and let your buyer determine how old it is. Let the drum speak for itself. If you fill out and submit information about your drums via the
Report Your Drums
page, I will try to help you to estimate the date of manufacture of your drums. Please do not then take this estimate and put in your eBay listing that you drum has been "evaluated by Gretsch expert Richard Gier" and he determined the exact moment your drum was made. Finally, I can strongly recommend
www.drumforum.org
and
www.vintagedrumforum.com
as great sites to learn about vintage drums. They both are actively supported by great people who are happy to share what they know. Spend some time searching their old posts - you will probably get your questions answered with a little work on your part.